I've had a pretty decent week, productivity-wise, having nailed down the plot for the final issue of the
Muppet Show: On the Road
story arc, finished writing the first issue, completely scripted the second issue, started writing the third, and written the first three weeks of the re-started
Mugwhump the Great
strip. And I've drawn stuff-all!
I've discovered something -- I get cross and irritable when I write all day. I don't know if it's the act of writing so much as the fact of
not drawing
that's doing it. I know I can't take holidays without climbing the walls after a day or two unless I have something to draw, so I suspect it's related. That said, writing is such an immersive experience that it almost hurts to be interrupted, and I suspect that has something to do with it as well. I normally just write in the early mornings, when being interrupted isn't an issue, but the Muppet scripts were way behind and I needed to catch up.
Anyway. Almost caught up. Then it'll just be back to early mornings for a bit, drawing the rest of the day, and my family will like me again. As much as they usually do, anyway.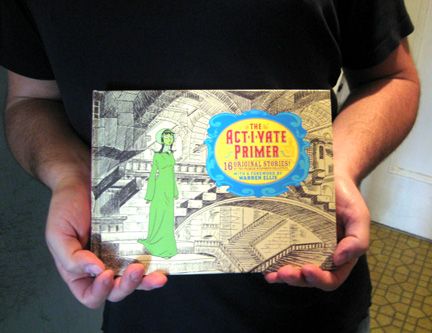 It lives! Dean Haspiel with the
ACT-I-VATE PRIMER.
With Mugwhump starting up again soon, it's impeccable timing.